Dear All,
I am quite new with Catia and therefore, I have some difficulties to find right solution for the below task:
I have created two different Catia Products (Product2 – Product3) in where I have placed the same product (Product1). Only difference between Product2 and Product3 (considering Product1) is that the Offset value between two parts of Product1.
When I set the parameter value from Product2 (which is linked to offset value of Product1), it automatically changes the offset value of the Product3 as well.
Do you have any suggestions to isolate these two products' value without creating another product?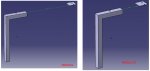 Thanks in advance,