Hi all, first post!
I'm constantly coming across problems making complex parts. Not even even complex, just lots of detail and the issue always comes down to inefficiency in operation. I'm making one focus adjuster and Inventor is already using 12Gb ram and is taking forever to perform it's task. It's not utilizing the processors very well, only at about 12% usage (it's a dual Quad-core Xeon) and I'm looking for something better suited to this kind of operation.
Bump maps look fake so it needs to be modelled and I'm looking for something that can make better use of my resources to speed things up.
For example, If I want to make items like these below I end up with all sorts of problems once modeling the grips.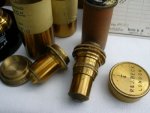 Any Ideas on where to start looking if there is such a beast in the CAD world?