Hello there!
I am an absolute begginer in CATIA. However, I'm doing a little personal project and I need to know if this can be done:
I need to poke a hole in the orange part (I'll call it plunger) by substracting the grey axis through it. The problem is that I need the orange part to be 3D printed and to actually go through the axis in real life (it is a DC motor), so if the size of the hole is exactly the same as the size of the axis, the orange thing will not go through, as it needs a little bit of tolerance.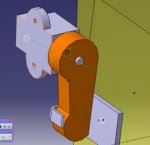 My question: can this be done in CATIA? Can I use the "remove" boolean tool and at the same time add, say, 0'1mm of tolerance to make sure it will go through, or should I look at the problem from a whole different angle?
Thanks a lot in advance!
EDIT: The axis is not perfectly cylindrical as it as a small pin to keep the rotation of the plunger solidary to the rotation of the axis. Otherwise I would just poke a slightly bigger hole in the plunger
Last edited: