Hello! I have a problem when i want to create a flange in sheetmetal design. First of all, i created a wall. Then added a flange to that wall. Then i wanted to add a flange to the newly created flanged wall, but i got this error
A sweep error occurred during the flatten view swept wall build.
Make sure the input parameters make it unfoldable.
The second flange, i wanted to be continuing the first flange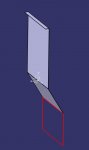 Does someone know why this error pops up?