Hey guys,
I'm actually working on some helix compressor parts, in detail on the main compressor helix itself of a G-compressor.
The edges of this helix need to be chamfered and so I now have a question how to realise these chamfered edges on the ends of the helix without any idea.
Please have a look at the following pictures to understand what's the precise need: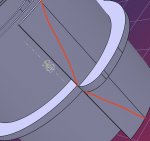 You can see these red lines which show the geometrical arrangement of the chamfered edges. My problem is that I don't know how to realise some kind of projection of a chamfered line onto a bent surface of the helix that in result I get a kind of cutting line or something like this.
Can anybody give me a way to solve the problem? If it is to complicated, I don't need the precise sequence of working steps, the way is enough that I can discover and develop it on my own!
Thanx a lot and greetz from germany,
Matse