Hello everybody
I want to Convert Multiple Surfaces To One Smooth Surface on this file.
Please take a look at this picture :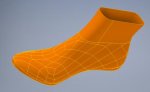 I have this file that created with 3D scan And I want to convert these pieces of surface to one smooth and seamless surface.
I want to remove these lines and make it smooth
How can I do it?
p.s ( I attached iges file on mediafire upload center"I couldn't upload it here because of errors )