I get alot of stepfiles created in other 3D programs that I then have to flatten to make DXF files for our laser cutting machines.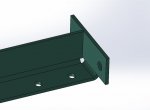 So this is an example part, I select convert to sheet metal, click one of the flat faces, collect bends, check that they are correct (R5 and thickness 5 in this case), input the K value and go ahead and convert it. Works fine...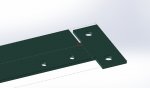 But when I flatten the part....it adds material in the marked section and I dont understand why? Is there anything I can do to avoid this happening?