Hello,
I am having some difficulities with the following :
How to cut a solid object in two parts in order to make a plastic injected casing when the cutting line is complex?
Typically for a game controller such as gamecube controller or N64 controller. See for example this picture this N64 controller :
http://nfgcontrols.com/grafx/N64-pad-side.jpg
Would you use "cavity and core" tools? Parting line seems adaptated.
Reflect line give good results on the organic shape. But then I can't figure out what to do to separate the solid in 2 parts, then shell both parts.
Also is there a way to make borders automatically such that the casing close correctly? Borders such as this picture :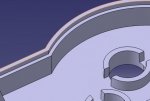 Because with this complex parting line it makes it complicated. Can we use the parting line and make a parallel line of it then extrude it?