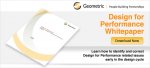 Design engineers are faced with many challenges related to product performance, costs and time to market.
Optimal product performance starts from the design stage and continues throughout the lifecycle of the product. To improve product performance and cost, equal emphasis should be given to all four attributes - material selection, part design, tooling, and processing. If any one of these attributes is deficient, then it will nullify the other three, even if they are highly optimized. More often than not , design issues account for almost 20% of product failures.
Download the whitepaper to learn how to identify and correct Design for Performance related issues early in the design cycle and achieve superior results and products.
Download Whitepaper