Very confused at this point. I have made the same part twice. When I create a blank Design tables it gives me option to select Global variables that I have made, but made it a few days later the same way, and I can't get Global Variables to show up... Settings are the same... The part is made the same way... Really lost at this point, searched but can't find anything related.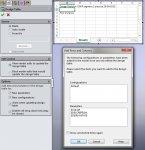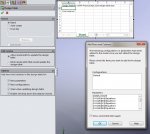 As you can see in the second picture I have options to select the global variables.
Any ideas would be great, maybe it's something simple but cant seem to figure it out.
Thanks