Hi everybody,
i just starting learning this software and using CATIA V5 Fundamental as guideline. In Chapter Reusing data, for exercise: Pattern and catalog (pages 172/338), some error happen when i try to insert catalog. It said the destination of feature not valid. I do not know what is happening because i follow step by step based on that tutorial.
i take snapshot for that error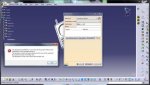 there is tutorial and catalog feature in this link if someone want to try do it
https://drive.google.com/open?id=0B2v0yigutmXNbTdDeG1jRlNsanM
please help me..
p/s: i am sorry if my english is poor