Hello everyone!
I'm a beginner and need some help for drafting on Catia.
I don't really know if what I did is right with the snap ring groove.
I put the 1.1 (x4) and 14.3 (x4). Also, I had some difficulties with the scales, so I had to put these A*, B* and C* to make it clear. Should I change this ?
Is that correct or should I draft it 4 times for each groove ?
Also, if you may see any other mistake, don't hesitate
Thanks a lot for anyone's help!
(P.S. My Catia workspace is in French)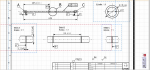 Last edited: