Using Vray for Residential Exterior.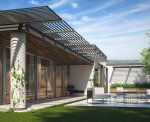 If you are interested in learning how to create beautiful and realistic vray exterior renderings, this is a great point to start. In this vray tutorial inside 3dsmax we will covering all the aspect of creating a stunning rendering using vray sun & sky as lighting source.
When creating exterior rendering for the residential market it is important to have several things in mind:
It is important to show that somebody is living inside
Shining Lighting and Surfaces
Lovely landscaping
Awesome Sky
Not so perfect surfaces
Beautiful Textures
Those details will help your renders to feel more alive so it can make a better impact into the viewer. Sometime we design for ourselves when we need to focus in the final customer, and this is where we need to put more attention if we want to create a successful rendering that sells.
For this 3d render, I was thinking in a couple without kids, a couple that love to be in a peaceful place without the noise of a big city. Why I told you this? Because it is vital to create something for a "real" person, so you can focus on those details that will make your render more "realistic".
Software Used in this Scene
For this scene I used a few software that I think you need to have in order to complete this tutorial, but you can put this in practice in any other application, just wanted to share this info with you.
3D Studio Max
Vray
Photoshop
Forest Pack Pro
SpeedTree
Ivy Generator
Getting Starter with the Scene.
Now I want to show you more technical stuff, so you can learn more about residential exterior rendering using Vray and 3dsmax, also I used Photoshop for the textures and post production.
Modeling
The modeling phase was simple, I created everything with the modeling tools that 3dsmax offers, everything was polygonal modeling.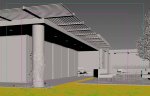 For more Visit us:
https://aleso3d.com/v-ray-tutorial-for-residential-exterior-in-3dsmax/