Hello fellow CATIA Users,
Does anybody have any idea of how the highlight is adjusted? At work it is always thin, and in Boundary command you can clearly see the nodes, in order to define the limits. But on my home pc, it is always fat, and the nodes are not visible. Here are some screenshots to explain the situation.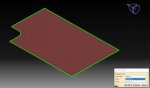 Please help 'cause it is so annoying!..
Last edited: