Hello,
I am trying to create a mouse in Solidworks, but I have a difficulty in matching the surface to the reference. I think that modelling these kind of objects with 3ds max is pretty easier than doing it in Solidworks.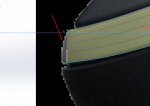 How can I edit this surface to overlap the reference?
Thank you very much for your help...