Hello,
This happens to me in multiple CAD softwares...
The problem I often run into is: I have a sketch with reference curves, and I create new relative curves, dimension them, and I have a fully constrained sketch.
I then modify a parameter (expression in NX), which sometimes causes curves to flip sides.
For example I create a sketch on a face of a 3D box. I offset the projected/intersected face of the box to the outside - which results in a rectangle larger than the box face. Later, I modify a dimension of the box, and the offset flips and is now on the inside of the referenced box face.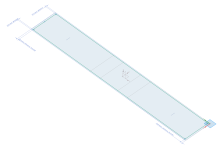 How do I prevent this?
The only solution I know of is to delete the dimensions, manually move the curves to the approximate correct location, and redimension. A tedious process.
Thanks!
Jack
Last edited: