Hello, I have a product that is pretty much the same but in diffrent sizes. Its mostly housings to smaller trucks and some mid size trucks.
The problem now is that i would want to be more effective building these models in Solidworks.
I feel that solidworks is more effective in straight up mechanical designs but this is what i have to work with.
How do you do when you have products like this? Driveworks express or some configurations with excel? any ideas?
A picture says more than a thousant words, its not the complete design, there are details missing but you´ll see what it is anyway.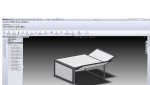 Sorry for my poor english language
Best regards, Rob.
Last edited: