Dear 3dcadforums members,
First off, I'm not entirely sure if this is the appropriate forum to post my topic and apologize if not.
I created a surface mesh in Materialise's MIMICS software that I saved as a .stl file that I would open with ProE.
The file that I created is a surface model of the inside of a pig chest cavity that I constructed from a series of medical images. I've created the model with the intention of using it to create a mold die with a rapid prototyping machine or CNC.
I recently graduated from a biomedical engineering program and have some experience with ProE, but it has been a while since I've used it.
I am looking for advice on editing my surface structure in ProE. I would like to chop the bottom of the surface off and possibly insert holes into various points on the surface but the surface is constructed of lots of facets. Is there a way in ProE to draw and extrude onto the surface? Or should I use a best estimate in creating datum planes and axes. Any advice will be helpful. I enjoy using CAD software such as ProE, but unfortunately my college engineering program didn't put much emphasis on such and I have not acquired the industry experience I would like.
Below is a screenshot of the model I am working with. You can sort of see the jagged edges of the bottom, which is one of the things I'd like to get rid of, either in ProE directly, or by trying different parameters when creating the surface in another program.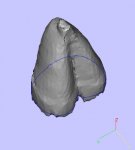 If you have any questions or need clarifications feel free to ask.
Thank You,
bsteinma