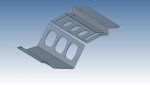 I have created a folded sheet metal part and with many modifications i have needed to cut in into two halves.
I now have the finished part but i need to join the two halves back together.
I have attached the part in question. In the middle section i wish to join the two halves together with a 5 mm radius.
How do i do this?
Thank you for helping.
I forgot to mention the 3D package i am using is IronCad 2012.
Can anyone shed any light on this?
Thanks
Last edited: