hello
I would like to ask about reversing a law-parallel process.
in the example i used normal law and parallel process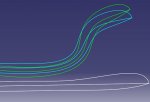 I made white lines
made laws out of white lines
and made vlue lines and green lines
but what if i had only green lines and only the blue middle line to start with, and wanted to make the top and botomn blue line.
how do i make law out of the green lines since it has no straigh one?
thank you
Jazzuo