Hi, I am hoping that solidworks can perform this function, and I just don't know how it's done.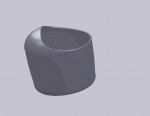 Take a look at an image of this bottle type model I've made.
See the blue line on the model?
This is a spline that I made and then projected onto the surface of the model.
What I would like to do:
Make a "crease" on the surface of the model which follows the spline. By crease I mean a raised edge, which is tangent to the surface. I'd like to control the shape of the "crease" , how high it raises from the surface and how round or crisp the tangency curve is.
I hope that makes sense. I'm not a solidworks expert, and I am probably not using the best terminology to describe my question. If there is not a Feature that does exactly what I've asked, what is the best way of going about this?
Thanks