Hi guys,
Not necessarily new to SolidWorks but new the forum. Good to be here! I do a lot of product visualisations and from quite an early stage, I decided to rely on SolidWorks for it's modelling but not it's UV mapping and render engine. It's not because they're completely terrible, it's just not what I'm looking for. Anyway after a few years away from it, I've found that SolidWorks does perform a particular style of mapping that's perfect for what I need on my current job. It's really inconsistant though and I wondered if any of you guys could lend me some tips or pointers as to why things work the way they do.
I'm modelling up some windows and rendering them out for a brochure. To wrap the wood textures onto the frames I'm using the "Surface" mapping type that gives me a really nice, even wrap around some awkward shapes and corners. As below: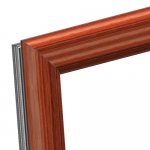 I've found though that the scale of the texture seems determined by the size of the geometry (I could be wrong about that), which makes it difficult to accurately know what the real scale of the texture is. Applying the same material with the same properties to two different sized panels also gives me two different results, which makes consistancy a bit of a nightmare, if not impossible. While it's cool that I can scale within the program, there's no way of telling (without just eyeing it up) if the scale is correct. At the moment I'm having to import the material's texture in with guide lines for scale purposes, then replace the texture once it's all set. Not a huge deal, but it's a couple of extra steps that I could do without taking. Below is a screengrab of the frame with the same guideline texture applied with the same settings to both panels, but as you can see the finish is completely different: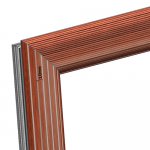 In short, does anyone know if there's a formula for why SolidWorks scales things in this way? How would I know what the texture's 100% scale is and why do I get different results from the same properties on two different length panels?
Any help, thoughts or ideas would be brilliant. Thanks!
I'm using SolidWorks 2011 on a 64-bit Windows 7 PC.