Hello all,
I'm trying to design a wing but I have a problem with the following feature : multi-sectional solid. When I try to create a solid with 2 sketches, the closing points are well placed but not their arrows ! It results the feature can't generate the solid, of course. I also tried with the coupling function, it's better but there are still some problems.
Do you have an idea how to change the closing point direction ?
I precise that when I click on the arrow, the direction is updated but not in the good direction.
The problem :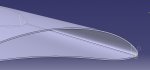 The CADpart generated with CatiaV5R20,
http://www.filedropper.com/wingprofil
Thank you