Ok … so I need to explain what I'm trying to do … the plan: 1. develop static contact model; 2. introduce rotation of the shaft to generate dynamic friction; 3. Solve the energy equation for the system to get the resultant heat generation and heat transfer (resulting temperatures) to the rest of the model.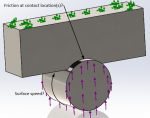 A picture of the model above illustrates the questions I have ...
Am I way off track? Can SW accommodate all of the above?
Thanks!