Hello,
I'm completely new to CATIA and I'm trying to build a robot for my class. This is the robot I need to simulate (ABB IRB 6660)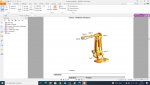 and this is my attempt at it: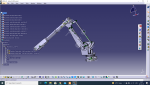 I made all the constraints and now I'm trying to make joints. I fixed the first part and made revolute joint between it and the second part. But as I tried to make second joint, message: "the creation of the joint is impossible because the mechanism is over constrained" shows. If I try to make some other joint (for example on axis 6 on that picture), than DOF becomes 6 and I can't simulate it anymore.
I would really appreciate your help (it is entirely possible I'm making some dumb mistake). If you need any further information, just say.