Hello everyone! My name is Enrique and I'm new at this forum
I'm mechanical engineering and have been working with Catia for a long.
Actually, I have the task of doing a hidraulic piping line representing the welding between the different sections. It is my first time with Weld Design module and got some problems with pipe welding.
I want to do a simple Butt weld with two pipes that are assembly togheter but when select, cant click OK. I have been searching on internet but not too much info.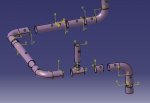 This is what I have and when try to weld together, nothing. I have tried with the pipes together, a little bit separated...
If someone could help me I would be very glad