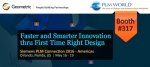 With increasing adoption of PMI, design for manufacturability validation becomes even more critical to achieve First Time Right and avoid changes late in the development cycle leading to extra cost and time delay.
Join us at Booth #317 to connect with our teams and explore how you can reduce your design review time significantly with the automated design for manufacturability solution, DFMPro, integrated inside NX.
Don't miss our knowledge sharing session:
Title:
PMI best practices and validation within NX with DFMPro
Abstract: There is growing need for accelerating the design cycle there is an increasing trend towards communicating downstream manufacturing requirements in digital form i.e. adding Product and manufacturing information (PMI) such as geometric dimensioning and tolerancing, 3D annotation etc. directly within the 3D model. This presentation will explain global best practices for implementing PMI and how DFMPro empowers designers to quickly validate their 3D models to ensure that they comply with industry standards and PMI best practices within NX.
Session Number: 16255
Location: Knowledge Theater 2
Time: Wed, May 18, 3:00 PM - 3:20 PM
Add to My Calendar