I have a transition surface that fits between a circular shaft surface at the bottom and a
constant section surface at the top.
There are 16 planer section curves and 2 guide curves (one on each side).
Analysis of each section curve and the guide curves show a (generally) gradual curvature
to the curves.
Using "Generative Shape Design" and "Multi Sections Surface", the result is a surface that
sinks between each section curve.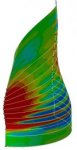 How can I prevent this?