Hello Everyone,
I am trying to model in Solidworks Simulation a connection between different steel structural elements with the bolt feature (counterbore with nut).
I have created
three models
all with the same contact behaviour-(no penetration), but different load and pre-load (for the bolts) conditions:
The first model
: a Vertical load and pre-load in the bolts of 100 N.m;
The second model
: only a pre-load in the bolts;
The third model
:a vertical load and no pre-load;
My
doubts
with the results that i am obtaining are the followings:
1-Why do i have
compression in the bolts
(axial loads) for the first and third model (in the bolts positioned in the middle of the connection)? The bolts should only work in
tension
(tension beam element).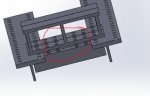 2-My other question is related with the case where the
bolt is connecting more than two elements
, like the edge bolts, i am using the advanced option from the bolt feature, and selecting all the internal faces in contact with the bolt, am i doing it right?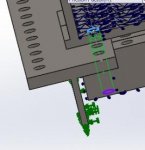 I am attaching the Solidworks model:
https://feupload.fe.up.pt/get/mouRLoHYH7WQ6qq
Thanks for the help.
Regards