Hi,
I have difficulties with making a 12mm dimension line for where the line would have crossed the circle if it had been whole.
I have attached to pics of what happens when I try to make my dimension, and what I want.
Is it possible to extend the circle Or in any other way to achieve my goal.
I have tried to draw a circle onto the drawing, but that does not update if I change the diameter of 173.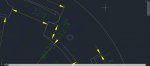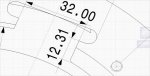 Thanks