Hi there,
Just new to this but have been using solid works for a couple of years now.
I'm relatively new to surfacing though and I'm struggling to fix an issue with projected curves.
I'm using two sketches which are both splines on different planes to make the projected curve. It all looks fine and the preview even looks perfect but when I click done it doesn't coincide with the lines.
The best way of putting it is it falls short every time and I've tried changing a few things like tangency and angles to see could I make it align but every time I try it's either off by a few millimeters or a lot of millimeters.
I can't find anywhere that explains this straight forward so please use basic language to help me out on this.
Here are some screen shots of whats going on...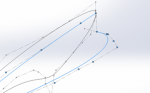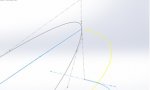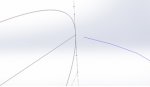 I just need to know how to make it coincide with the points.
Both splines I am using to project the curve coincide at the points that the projected curve doesn't touch.
Any help would be appreciated and thanks in advance!