Hello all
Catia is not my primary CAD package so if I ask something that seems obvious I apologise.
I am trying to use an old part to build a new assembly, I open the part then save as to create the new part and tick the "save as new document" box.
Then I open the new part and go to properties to rename the Product part number box so it matches the document name but it is greyed out ?
I am hoping its something obvious, please see the attached image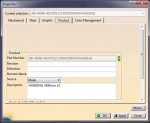 regards
Dave