Hello everyone, Im trying to represent a sheet metal as shown in the files attached, in Catia v5 r19.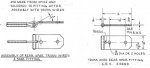 I could represent de figure in its flat position [using generative sheetmetal design and building it with the extrusion tool, like it is in the right part of the file attached. But when I try to bend 30º the sheet pieces I can only bend one, and the other its impossible to bend it 30 aswell, to make it fit to the first one. Errors and white space between both parts are generated while trying this.
Im waiting for some kind of suggestion about how could I represent this piece.
Really thanks
PD: Here is all I could do: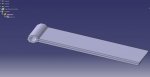 , but still dont know how to bend both parts together...
Last edited: