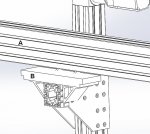 I have this difficulty I could not find a way to solve.
As the image shows: I have a linear system in which B slides parallel and underneath A. For mates, I used the upper top face of B to mate to the bottom of A. In addition, an edge of B is mated to a side face of A. This mate guarantees no over defined constrains. I can easily extract forces but dont know how to get the reaction moment at this joint.
Actually, there are options to do it, but I could not control the zero moment point, thus, I did not get valid moment measure, as you also see the image below.
Any one could helps me here ?
Thanks