Hi every member,
I am a new guy starting using CATIA to draw an airfoil. However, I faced the problem that I have goolged it but couldn't found any clues: the spline created could not match well to points provided. I hope that I can get your supporting advice.
I imported coordinates from Excel to CATIA, it seemed good. Then I follow steps in this video, from 10:30.
https://www.youtube.com/watch?v=vaMsdtgEXvs#
I attache here my dropbox link, picture for your reference:
https://www.dropbox.com/sh/511q0o0999jkew2/AACqwXo-WdPVY5g1_28uXDZYa?dl=0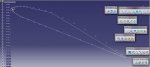 I found that for much simpler curve like 3 or 4 points defined spline, it still works. But for the airfoil, it fails.
Thank you very much for your help.
Last edited: