I was modeling a Stent and was successful in completing the first part of the design. A stent is a cylindrical structure and right now I have a rectangular structure/area. I wanted to know if it was possible to convert it into a cylinder. (something like the toroidal bend in solidworks) Is it possible to do that in Catia?

This is the point till which I have completed :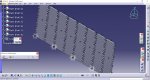 This is what the final model should look like :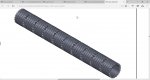 PLEASE DO HELP! IT IS A PART OF MY PROJECT!
ANY SORT OF HELP WOULD BE APPRECIATED!