Hello all,
I am pretty new to catia - actualy any 3d modeling software.
I often receive catpart files and would like to know the material consumption for the product.
I know how to get surface area ( inertia tool ), and the lenght of a specific section i get by using multiple "Measure between" rulers and then SUM the numbers. But this is very inaccurate option.
Please see attached image on the sections i need length to. Any ideas how to ?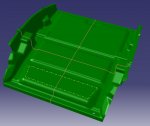 The second thing i need is the minimal size of the tool needed for the product. So I would like to get dimensions of the smallest cube possible to fit around the product.
if you could help me it would be very helpfull to me.
Best regards,
Miha