Recently i am facing a problem when i m trying to use circular pattern for a surface.
At the selection of the object to pattern i cant select the surface cause i receive the
feature definition error " select a part design element" as it depicted below.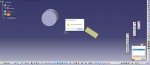 Moreover when im trying to reproduce the following tut,
http://catiadoc.free.fr/online/cfyug_C2/cfyugcircularpattern.htm
i cannot select any of the features (pattern etc).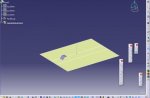 Does anyone know the solution for the issue..
Thanks