Hello everyone, I'm trying to modeling an object with a curved edge that I made with loft feature.
PROBLEM: in the loft area, the section doesn't stay constant (is going from 1.5mm to about 1mm)
To make this loft, I make several sketches with the same thick (1.5mm) joint each others with the edge of the object.
This is what I tried:
1 just one loft between 5 sketches
2 Uncomposing the loft in 5 different loft
3 Making an surface than give to it thicken and than make it a solid, but when I tried to combine it with the main body wasn't worked
In attach you can find the first and second solutions, anyway if you wish you can see my third solution in the hide body
Any ideas?
Thank you!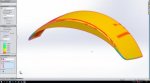 View attachment SW Loft Issue 01.zip
View attachment SW Loft Issue 02.zip