The SketchRec 1.1 Beta SW by Imagars is capable of rapidly identifying complex design files of interest (2D or 3D), including SolidWorks part files. The tool automatically displays thumbnail images, extracted from the SolidWorks part files, next to the search hits. By quickly relating to the content of the thumbnail images, the user can narrow down the search space to select few candidates. The ultimate verification is established by double clicking on these select few candidates. This automatically brings up the eDrawings Viewer where the design files can be carefully inspected from different perspectives.
The SketchRec SW is available for free, 30-day evaluation from our website:
The following user groups might benefit from SketchRec:
1. Experienced design engineers that have archives from old design projects on their local PCs. Manual search through the archives might take quite long time, esp. if the files are not very well organized.
2. Engineers that join an on-going design project, and are expected to quickly get up to speed. Assuming the design files are stored in some sort of a database, if might take the engineers very long time to manually open up the design files and inspect, esp. for large and complex design projects.
Additional scenarios can be formulated along these lines.
Feel free to offer comments on how well you think SketchRec addresses the needs of the ME design community. Insightful feedback is always appreciated.
P.S. SketchRec can also visualize CATIA v.5 and Pro/Engineer part files in a similar fashion.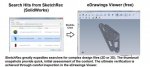 ​