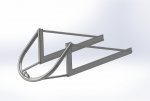 I have a simple weldment here for the bow of a sailboat I am captaining from Vancouver, Canada to Cabo San Lucas. This is so we can properly fly a code zero and gennaker sail.
It will be bolted to the bow roller of this aluminum boat.
I have solidworks 2014 proffesional, and would like to do a simple FEA analysis on this weldment to see the deflection and stresses.
I modeled fillets where the tangents of the rods meet flat side of plates, but still getting a "Unable to create this feature because it would result in zero-thickness geometry" when trying to combine the bodies.
Any help greatly appreciated.