Hello.
I'm working with CATIA and have a problem
I'm making a structure, formed with empty tubes, 1 diameter width, different diameters
I've made the structure with lines and points, thinking in having a clear idea of the structure since the plans are not thad good. Here it is.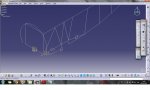 Now, I decided to do ribs in every line with the adecuate profile of that bar. But then I found a problem with the points where the tubes are joint. Here it is a rib through an arc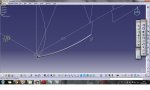 And here, the problem with de union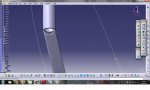 It looks unreal an ugly. Not very profesional. Also, it appears the following warning, which i dont know if its or not relevant.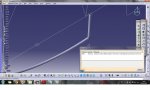 I tried to fix this doing this.
I do a pad in the end of the first rib, equal in length to half of the diameter of the tube that will intersect it.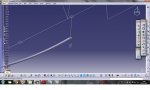 And now, instead of a rib i use a "pad up to next" I though it would give a better look, more "welded", not "one on top of the other". But instead i get the following error.
Topological operators: impossible relimitation on the main part. - Change specifications.
How can i solve this error? Am i working the wrong way with this structure? How can i turn the line a points structure into a tube structure? How can i make a nice modeling of the weldings?
Thanks in advance