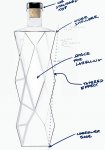 Does anyone have any suggestions on how o best approach modelling this concept?
I have not used solidworks for about 1 year and i'm not sure of the best approach to take. I tried cutting it into cross sections and using lofts but could not get the straight angular lines I wanted. It made smooth curves between the sketches instead.
Help is much appreciated!!