Hello,
I'm currently doing a project about the simulation of the motion of a parallel kinematics machine. I develop my skills about the dmu kinematics module during more than one month and try to simulate this parallel kinematics robot during an other month. Now I am lock, at the begining I have try with the natural joint of the robot (prismatic and revolute joint) but the message "the mechanism is too much drived" come up when I put more than one driver. Then I've tried with other joint, replace the driver and many more things. But no way to correctly simulated it. Then I ask here if someone have an idea about this mechanism.
There is and images of the mechanism:
1: Prismatic joint
2: revolute joint
3: revolute joint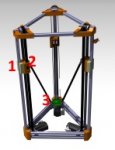 Thanks for your help and for more information about the product feel free to ask it.