Hi,
I am trying to do an FE anslysis in catia, but it always ends up with
"ERROR"
factorised matric computation. Singularity detected in translation (pivot too small) Possible reson: missong restraint or connection specifications. display deformation or displacement vector to diagnostic the problem
I guess this may be due to wrong constraint, what i am trying to do is to applying load on stewart platform as shown in figure attached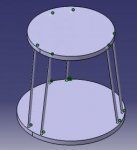 each part is designed separately and then assembled in assembly, each leg has spherical ends, that is coincidence constrained (by defining points one at end of leg and other at plate) in spherical places in plates, as shown in 2nd pic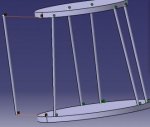 Can anybody suggest me right type of constraint, actually joint between leg and platforms will be rigid during analysis?
May be it is very simple or basic question but I am very new to CATIA and FE modeling.
Thanks in advance.