We just got a new 3d scanner at work. It attaches to our faro arm that is used for measuring. I brought a wood piece from home to try out the scan to 3d option in Solidworks. I have run through the point cloud to mesh wizard about 5 times now. When the point cloud is opened it looks nice and clean. There are about 2.2m points in the file. Once I run it through the wizard it turns out looking really bad. I have tried different options with not much change in the results. Do you have any ideas what it is I may be doing wrong? Here is a screen shot of before and after the wizard.
Before(point cloud)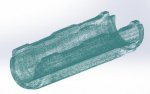 After (mesh)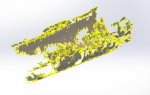 Point cloud file
https://www.dropbox.com/s/3tw58vtvis5a8fx/handguard.txt?dl=0
Thank you for any help you can offer.