Hello,
I have struggled with this problem along time. I would like to create the front deck feature on this submarine:
https://nationalinterest.org/blog/t...ubmarine-sweden-sank-the-us-navy-battle-25639
Its the Swedish Gotland Class submarine.
I have two paths and a profile I would like to sweep. But I get ugly feature or not a complete one.
Can anyone help?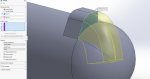 That does not follow the guide curve but the curvature of the feature is correct. But if I add the guide it disappears and I get an error: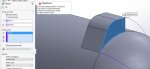 It is important as seen in the reference image at the top that the deck is quite thick towards the front and then quite rapidly converge to the center.
What to doo? What do I do wrong?
Kind regards.
Last edited: