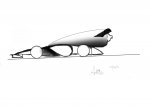 Ok I need someone's help to actually design this car for me on ANY 3D CAD software you have ,
I'm working on a project and I really wanna see how this is portrayed through multiple CAD softwares ~
Please? If anyone is willing to help I'll send more sketches,
this is the first time I'm using a forum so bear with me. XD
-Adila.