Hi everyone.
I'm trying to see if a part can physically fit into an opening in an assembly and am unsure how to do it if anyone can help?
The part in question is a glass roof that need to sit on top of some glass walls and is framed around by aluminium channels. The channels and glass wall as in place and I need to check to see if it is possibly to actually squeeze the roof glass into the aluminium channels and wall glass without any clashes.
I've tried contact solver to prevent the parts from overlapping by suppressing the relationships and using contact sets, but it doesn't help with me almost trying to install the glass unit in Inventor like we would do on the construction site.
Moving the glass roof part around doesn't really assist as it seems to just jump into place, so I couldn't be certain if you could really install the glass part.
Parts Fully Assembled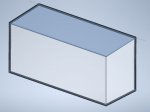 Parts With Roof Glass That needs to sit in opening.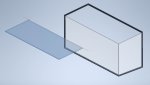 Pack and go file link below:
Any ideas?