Hi,
I'm sorry if this problem has already been answered before, but I could not find a similar example.
In my specification tree I have a pocket (Slidske_pocket) based on a sketch (Sliske_sketch). But for some reason I cannot get the sketch under the pocket in the specification tree as is the example with e.g. Fjederhul_krop_pocket and Fjederhul_krop_sketch.
I have added a screenshot of the situation.
How do I reorder the Sliske_sketch?
Does it have any affect on my part that I am not aware of? (The geometry of the part is as expected)
And how did it happen to begin with?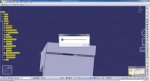 Thank you,
Simon